What is this special offer?
From 1st June Metro Storage Canterbury will run a special offer on storage units to everyone who shops at Woolworths Campsie, Woolworths Canterbury and Big W Campsie. The offer can be found on a shopping receipt from those following stores or online on Shop a Docket website. This voucher will allow future Metro Storage customers to enjoy 20% OFF storage fees!

What are the details of the offer?
20% DISCOUNT will be offered on 4 sqm, 6 sqm, 6.5 sqm and 7 sqm units at Metro Storage Canterbury for a maximum period of 3 months. The valid date of the offer can be found at the bottom of the shop a docket voucher. Keep an eye on the offers, as they may change every month. This exclusive offer will be running from 1st June till 30th November.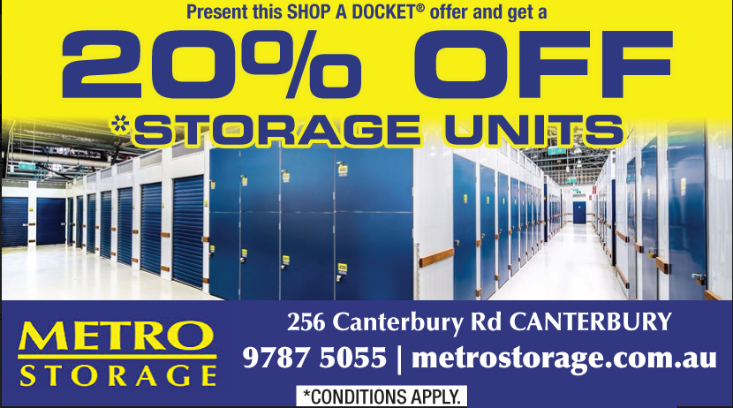 How to redeem the offer?
To redeem your Shop a Docket, you will simply need to show your shopping receipt with our offer on the back to one of our consultants at the Canterbury facility. Or you can unlock the offer on a Shop a Docket website and get your discount when you visit Metro Storage Canterbury. If you have any additional questions, you can check FAQ on our website or give us a call on 1300 STORE IT (1300 78 67 34).